MIKEL ARTETA has said he is "ashamed" at the refereeing decisions his side faced against Newcastle and has promised to fight the controversial VAR ruling.
Arsenal tasted defeat for the first time in the Premier League this season in a 1-0 loss to the Magpies, but it was a game clouded by controversy.
Mikel Arteta has been left fuming with the officials following Arsenal's 1-0 loss to Newcastle
Anthony Gordon scored the only goal of the game which saw a VAR check of more than four minutes try to decide if there was an offside or foul involved, as well as seeing if the ball went out in the build up.
Earlier in the game, Newcastle star Bruno Guimaraes was lucky to stay on the pitch after his flailing elbow clattered into the head of Jorginho in the first half.
Arteta has been left fuming with the decisions against his side and let his feelings be known in his interview with Sky Sports.
The Gunners boss said: "I have praised my players for the performance and the way that we played – we didn't deserve to lose the match.
"We lost the match because of the clear and obvious decisions. It's embarrassing. It's a disgrace. That's what it is, a disgrace."
And when asked if he will be taking up his frustrations with the PGMOL, Arteta made it clear he would be escalating things.
He said: "Yeah. We will be taking it for many months. There is so much at stake and we put in so many hours.
"I am here to represent the football club and to get my team to compete at the highest level.
Bruno Guimaraes was lucky to avoid being sent off when his arm clashed into Jorginho's head
"The margins are so small. It's a disgrace. It's embarrassing. That's how I feel and that's how everyone feels in that room [the dressing room].
You cannot imagine the amount of messages that we've got saying 'this cannot continue'. It's embarrassing, I'm sorry, embarrassing."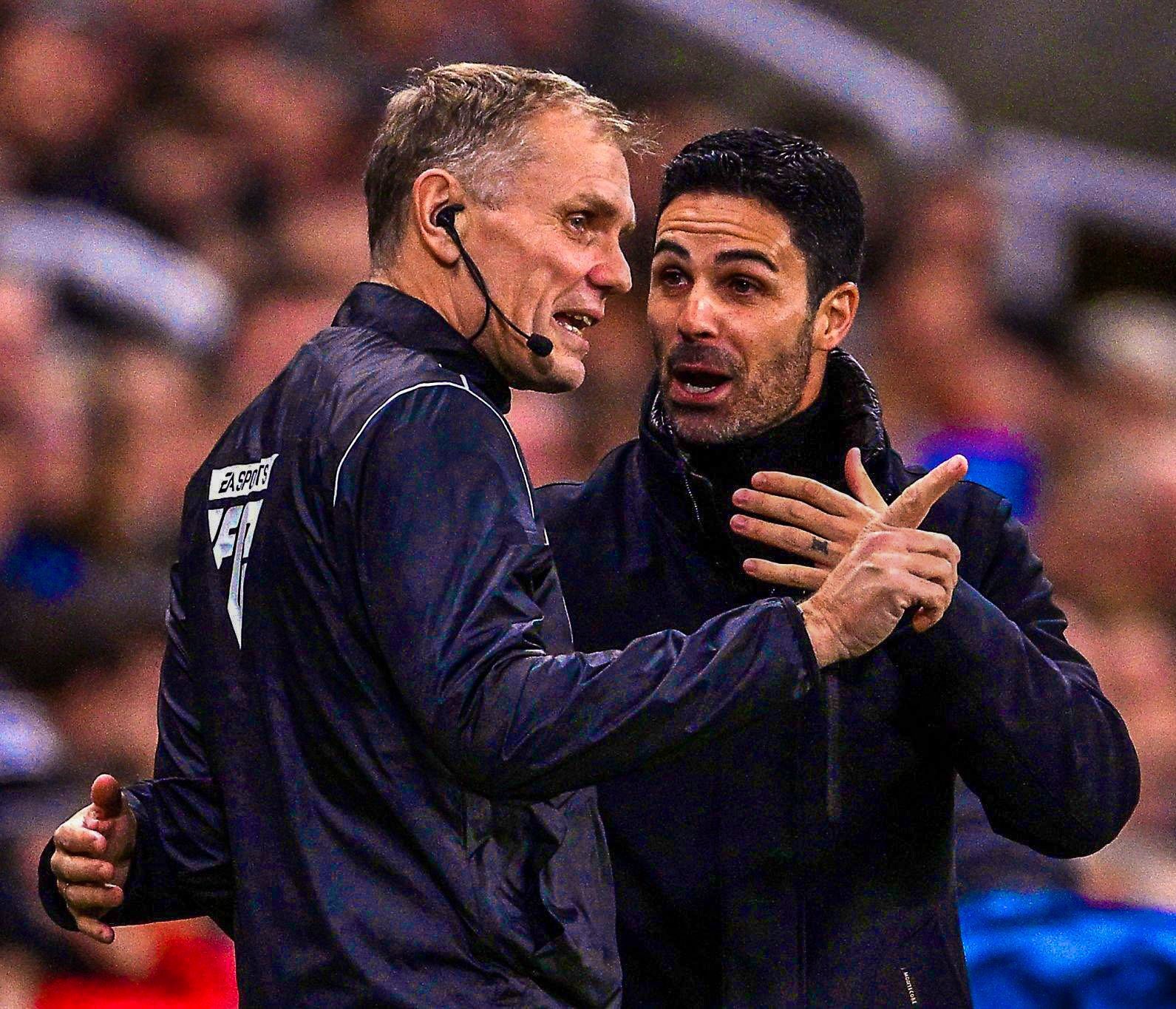 Arsenal may have been lucky themselves with many fans calling for Kai Havertz to be sent off in the first half for a sliding challenge on Sean Longstaff.
But the £65million man was issued a yellow card with VAR satisfied Stuart Attwell didn't need to escalate things.
However it was Gordon's goal that left Arteta seething the most as he felt the decision cost his team the game.
Kai Havertz saw yellow for a risky challenge
Anthony Gordon's winner had questions over an offside, a foul on Gabriel Magalhaes and the ball going out of play during the build up
He said: "When you look at the images, honestly I don't know how to feel.
"I am wasting my time, we are wasting out time. I don't want to be in the hands of [other] people.
"It is difficult enough to come up against this team [Newcastle]. They are a really good team."
Arsenal were unable to come up with the goods themselves to grab a goal, but despite only registering one shot on target Arteta is convinced his team did enough to win the game.
Speaking to BBC MOTD he said: "If there was a team looking to win the game today it was Arsenal.
"Embarrassing what happened – how this goal stands, in the Premier League – this league we say is the best in the world.
"I've been 20 years in this country and now I feel ashamed.
"It's a disgrace and there's too much at stake here. We are trying to do incredible things and be at the highest level each week.
"When we're not good enough I hold my hands up and take responsibility.
"The outcome is nowhere near the level this league needs to have and the way this league is getting competed in.
"It's not good enough here in Premier League. I feel embarrassed to be part of this".
Arteta has been left furious over the refereeing during the match
Goalkeeper David Raya was left just as frustrated as his boss and is convinced that Gordon's goal should not have stood.
Speaking to Sky Sports, he said: "We are all frustrated. My point of view is I saw the ball going out of play.
"I think it is a foul on Gabriel, he [Joelinton] pushes him on the back and the decision was it wasn't a foul.
"I don't think it was supposed to go that way. And in my opinion it was offside. We are very, very disappointed.
"We competed very well today away from home. A very tough place to come. The way we played deserved a bit more than a loss.
"A draw would have been more fair, it was very even. Everyone in the dressing room is very frustrated and obviously angry."
Prior to hosting Sevilla in the Champions League on Wednesday, Arsenal will need to get up off the ground.
The Gunners now trail Man City by three points, and should they defeat Chelsea on Monday, they will trail unbeaten Tottenham by five points.