At Anfield, Liverpool defeated Everton 2-0 with two goals from Mohamed Salah.
Alisson – 7 (out of 10)
On the odd occasion that he needed them, he felt safe hands, and he was quick off his line to defuse any Everton forward thrust. It was a quiet afternoon under the sun, and then subsequently under the driving rain for the Brazilian goalkeeper. He has now achieved three clean sheets for the season.
Trent Alexander-Arnold – 7
Right from the start, he was positioned at a high point on the pitch and found himself in inviting spaces to attack. However, his deliveries into the box frequently went well beyond the intended target. The ball was often directed towards him as Liverpool attempted to break open Everton's defense, but his accuracy was lacking.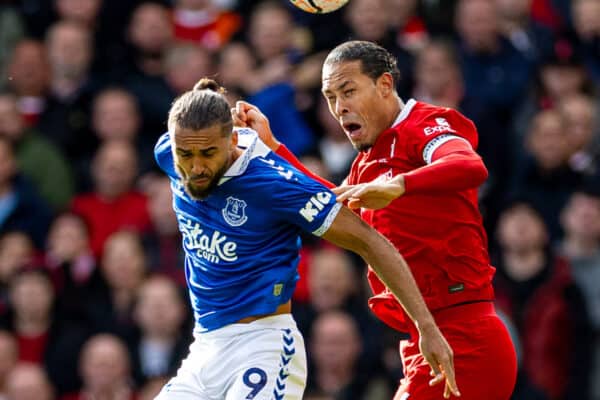 Ibrahima Konate – 7
It's hard to believe that this was only Konate's first league start since the second matchweek. He played so well that it was difficult to tell. He made a sloppy backpass early on, but then he was on the front foot and strong in the challenge. He was also accurate with the ball at his feet and was there to clear the lines when Liverpool needed it. However, he was lucky to avoid a second yellow card, so Klopp acted quickly and took him out of the firing line.
Virgil van Dijk – 8
Van Dijk's performance at the start of this season has not been given the recognition it deserves. He displayed his usual composure in the air and while handling the ball on the pitch. As the captain, he was vigilant to any potential threat and finished the game with the second-most touches of any player on the field.
Kostas Tsimikas – 5
It was clear that Tsimikas was under the spotlight after Andy Robertson's injury. However, his performance was a mixture of good and bad. On one hand, he demonstrated his ability to deliver dangerous balls into the box. On the other hand, he was careless in giving away possession and unintentionally gifted free kicks to the opponents. His substitution at the hour mark was a clear indication of his unsatisfactory performance.
Alexis Mac Allister – 7
Despite a demanding international fortnight, Mac Allister started once again at No. 6. Klopp had stated that he had "no doubts" about Mac Allister's abilities in the role. Mac Allister was a bit sluggish on the ball at times, which has become a bit too common for him. However, on the bright side, he provided us with several beautiful penetrating passes that opened Everton's defense.
Dominik Szoboszlai – 7
He is a formidable player, isn't he? He confidently charges through the center of the field and has a powerful shot on goal. Even when he had to switch to the left midfield position after Tsimikas was substituted, he continued to run tirelessly, with or without the ball. Watching Szobo play is truly enjoyable.
Ryan Gravenberch – 8
The 21-year-old player had his first Premier League start and he showed great composure. He was able to shield the ball and keep it moving at pace with ease. He is also very skilled at drawing fouls from the opposition. It's surprising why Bayern were willing to let him go. However, he has settled in brilliantly at Anfield.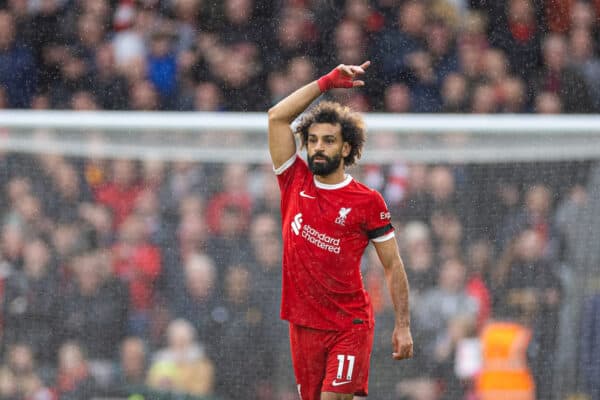 Mohamed Salah – 7
It is not common to see Salah make poor touches in a game, but in the early derby kickoff straight after an international break, he was struggling to keep up with his own world-class standards. However, his below-average performance did not hinder him in the match-defining moments. He scored two crucial goals, one from the penalty spot and another from close range, for his seventh and eighth goals of the season. This is a testament to his world-class talent and ability to step up when it matters the most.
Luis Diaz – 8 (Man of the Match)
In the first half, Drew Ashley Young was driven by his persistence on the left wing to make two challenges that deserved yellow cards.
As a result, the Reds had a one-man advantage for 53 minutes. Though his final passes, like those of others in the opening half, fizzled out, he was the one who brought pace to the final third.
Moreover, he made the pass that hit Michael Keane's outstretched hand for the penalty. He was asked to play left-wing back before his substitution, which was a fitting end to his influential performance.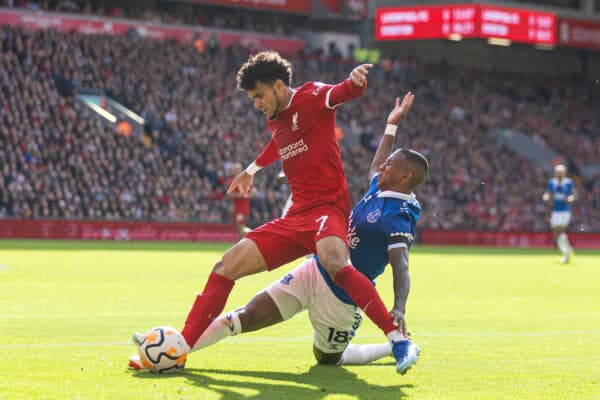 Diogo Jota – 5
Jota had the joint-fewest touches of any Red (19) in the first half, alongside Salah, which made for a lackluster start for him, considering that he was leading the line. However, he was able to get more involved in the proceedings when he was swapped to the left wing late on. Despite his obvious efforts, not a lot came off for him this time.
Substitutes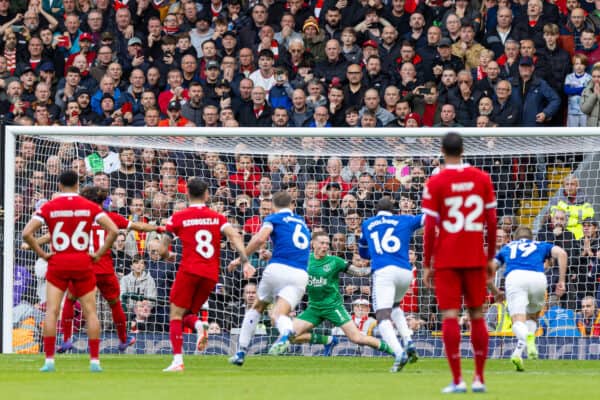 Below is a summary of the performance of the substitute players in the game:
– Harvey Elliott came in for Gravenberch in the 62nd minute and performed well. This was his sixth match as a substitute and he was bright, proactive, and unlucky not to score a goal.
– Darwin Nunez replaced Tsimikas in the 62nd minute and made an assertive contribution to the game. He timed his pass to perfection and created the break for Salah's second goal.
– Joel Matip substituted Konate in the 66th minute and did exactly what was expected of him – he played his role well.
– Joe Gomez came in for Diaz in the 80th minute and played at left-back. This is a sign of things to come while Robertson is sidelined. He performed well and contributed to the team's effort.
Subs not used: Kelleher, Quansah, Scanlon, Endo, McConnell
Jurgen Klopp – 8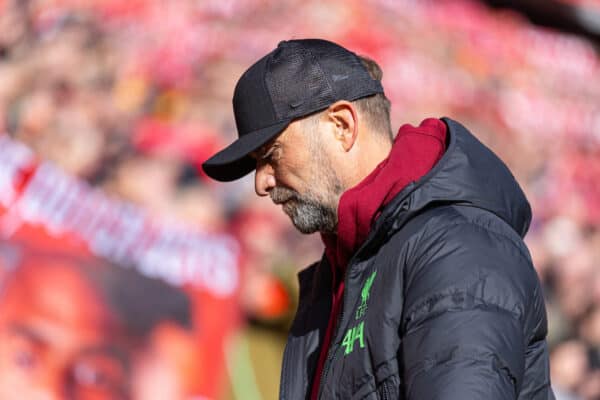 Liverpool's manager, Jurgen Klopp, had limited options when it came to his starting eleven due to injuries and suspensions.
Therefore, it was hardly surprising when Harvey Elliott and Darwin Nunez came off the bench. In the first half, Liverpool repeatedly carved open Everton on the counter-attack, but their final passes often let them down resulting in a sluggish match overall.
Although the Reds were far from their best, they managed to secure all three points, which was crucial after only gaining one point from their last two league games.
This Merseyside derby might not go down in history as a classic, but Klopp's triumphant fist pumps showed how much the win meant to him. Get in!