Since Lionel Messi arrived in the United States, MLS fans have been coming to the stadium more than ever, with single-match attendance records also broken.
The 2023 MLS Playoffs are coming up and some big names will be absent. Both Lionel Messi, Sergio Busquets and Jordi Alba will not be participating as Inter Miami failed to qualify , while Chicharito Hernandez's LA Galaxy will also not be able to participate. However, the four players mentioned above along with many other names have contributed to making 2023 the year with the largest number of match attendees in MLS history.
"History was made! Our players gave it their all on the field and fans turned out in record numbers. Thank you to everyone who attended MLS matches this season. Your amazing support has taken MLS to the next level! Here's to more unforgettable moments for years to come," MLS commissioner Don Garber posted on social media.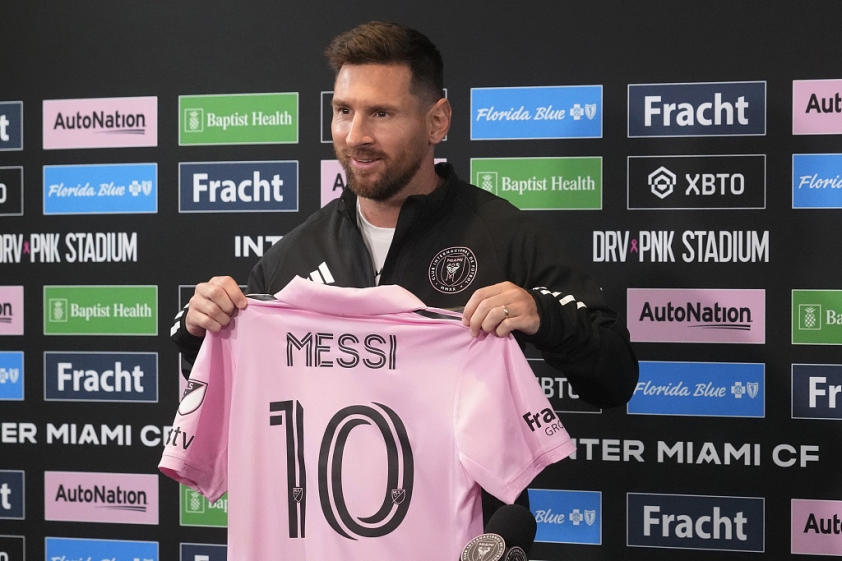 The Messi effect has created an unprecedented fever in MLS. Photo: GETTY
What will be the average number of supporters attending Major League Soccer matches in 2023?This season, a total of 10,900,804 fans attended matches at MLS stadiums, with an average attendance of 22,111. This represents an increase of approximately 5% from the average attendance of 21,033 in 2022. When compared to the previous record for greatest average attendance, which was achieved in the 2017 season with 22,106 people, the total for this year is 5% higher.
Which Major League Soccer match will have the highest attendance in 2023?The Major League Soccer match between LA Galaxy and Los Angeles FC on July 4 at the Rose Bowl in Pasadena drew an announced crowd of 82,100 people, which beat the previous attendance record for an MLS match. This took place not more than a couple of weeks before Messi, a seven-time winner of the Golden Ball, made his debut for Inter Miami.Is it likely that this record will be broken again in a year, considering that the upcoming transfer window is anticipated to bring in other international superstars and that Messi will be playing his first full season in the league?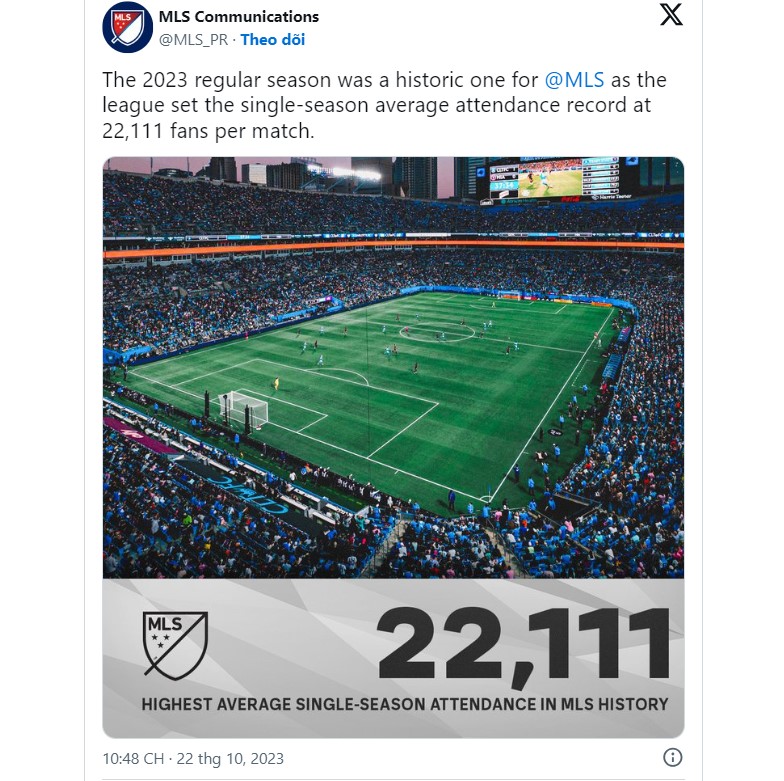 MLS has welcomed a record high number of people to the stadium since Messi joined Inter Miami. Photo: Twitter
Inter Miami sees its 2023 audience soar
In 2023, only five of the 29 teams in MLS saw average attendance decline from last year. Houston Dynamo (-8.5%), followed by Real Salt Lake (-5.1%), Seattle Sounders (-4.3%), Portland Timbers (-3.1%) and Toronto FC (-0, 5%).
Nine teams recorded double-digit percentage increases, unsurprisingly led by Inter Miami. The average attendance of the team owned by Beckham soared from 12,637 to 17,698 (+40%) – far exceeding the following names such as San Jose Earthquakes (+20.7%), Orlando City (+19, 3%), NYCFC (+15.3%), Chicago Fire (+14.7%), FC Cincinnati (+12.8%), New England Revolution (+12.8%), CF Montreal (+11, 3%) and FC Dallas (+10.6%).