Alejandro Garnacho left Manchester United fans baffled after the youngster took his top off to give to a Fulham fan before walking down the tunnel at half-time
Alejandro Garnacho made a fan's day after gifting him his shirt – the only problem was that it was a Fulham fan and it was at half-time.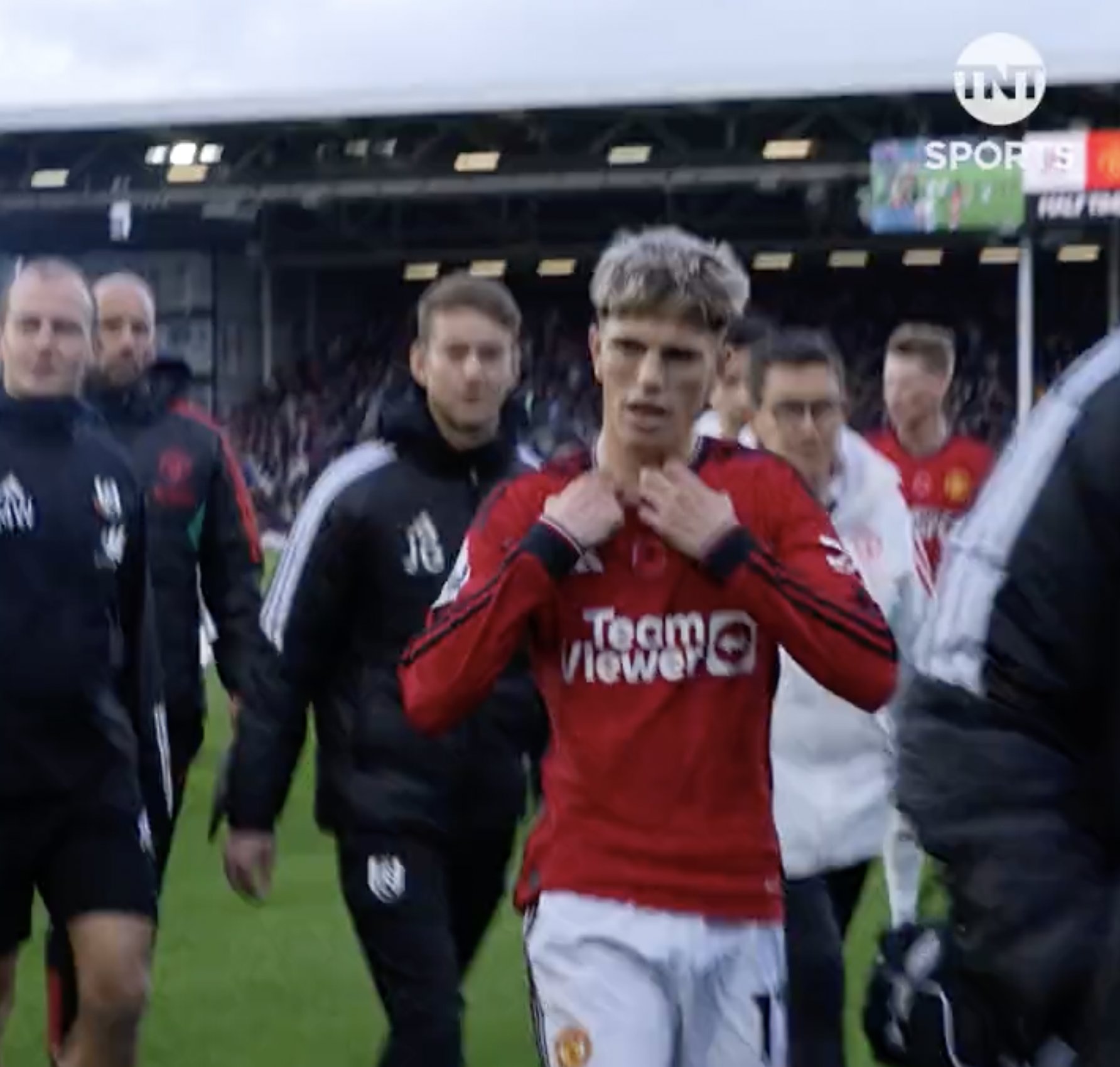 .
He parted with his shirt at half-time
The young Fulham fan was delighted
The Manchester United winger was leaving the stadium via the tunnel following a lackluster first-half display, despite the fact that his team was denied an early lead when Scott McTominay's goal was controversially overturned by VAR. Referee Jarred Gillet made his way to the pitch-side monitor because Harry Maguire attempted to play the ball even though he did not come into contact with it. As a result, he was declared offside.
While United ended up clinching three points thanks to Bruno Fernandes' 90th minute winner, it was quite the despondent performance from United after the disallowed goal but that certainly didn't stop Garnacho from spreading out love across the fans at Craven Cottage. Before walking down the tunnel, the Argentine took his top off to give it to a delighted young Fulham fan.
Man United fans on social media were utterly confused by the 19-year-old's actions as one X user wrote: "Game well and truly gone"
While another asked: "Why would a Fulham fan want the shirt of an opposition player?"
A third fan may have jokingly stated: "Should get a yellow card".
A fourth fan took aim at the Fulham fans instead of Garnacho as they said: "Wouldn't have expected any less at Fulham. Look like day tripper fans really".
While it wasn't a vintage Manchester United performance against Fulham, they secured the 1-0 victory in a much-needed reprieve for Erik ten Hag who's faced mounting pressure following back-to-back 3-0 home defeats
Before the game, McTominay gave the United boss his full support as he vowed the team would improve following a season where they've already suffered eight defeats in all competitions. "The fans want to see results and performances and to see the players smiling and happy," the Scotland international said.
"It's not happening at the moment, but I'm 100 per cent sure the manager can put that into practice and it can come off."